Modi govt injects a Rs 14 lakh cr steroid into a nervous economy; Investment of Rs 6.9 lakh cr to develop 83,000 km of roads
 In a major push to boost growth, Union Cabinet chaired by Prime Minister Narendra Modi on Tuesday cleared a whopping Rs 14 lakh crore package that included investments in key development sectors such as Rural Roads, Housing, Railways, Power, Highways and Digital Infrastructure, apart from a massive recapitalisation plan for public sector banks.Unveiling the stimulus plan at a 90-minute long press briefing, top bureaucrats led by Finance Minister Arun Jaitley gave detailed presentations, claiming that increased spending on the government's infrastructure push and banking reforms would lift the economy and address job sector. This is the third major announcement in financial sector after last year's demonetization and the implementation of Goods and Services Tax (GST) regime.
"We need to step up public expenditure. Our measures will boost infra spending in a big way. There is a public sector bank capitalisation plan of Rs 2.11 lakh crore. Public sector banks have adequate lending capacity now, post demonetization. It was decided that a bold step needs to be taken by the government to recapitalise banks and increase spending in infrastructure," Jaitley told reporters.
In his presentation, Finance Secretary Ashok Lavasa said the government's spending on infrastructure was aimed at "creating more jobs, more growth," detailing that 83,677 km of highways will be built in the next five years. "It will create 14 crore man days of jobs," he said. The figures will surpass PM Modi's electoral promises of creating one crore jobs a year.
Facing Opposition barbs on loss of jobs on account of demonetization exercise, the move is believed to address this core concern. The presentation of an economic plan came amidst political rivals targeting the BJP-led government, attributing the economic slowdown to what they call poor handling of key reforms like last demonetization and the implementation of GST. Congress vice-president Rahul Gandhi has made economic slowdown an election plank ahead of the key assembly polls in Gujarat and Himachal Pradesh.
In another presentation, the Economic Affairs Secretary SC Garg said Rs 7 lakh crore will be invested in road infrastructure over the next five years alone. The government's Bharatmala programme will entail construction of 34,800 km roads across the country. He said inflation was not likely to rise beyond 4% and the current economic slowdown was bottoming out. He added that fiscal deficit was under control and that the government was unlikely to overshoot its target of 3.2% fiscal deficit at the end of 2017-18.
A target of Rs.1,31,000 crore has been made for Capital Expenditure for the Railways, to upgrade infrastructure, improve safety and laying of new lines and providing passenger amenities. An outlay of Rs.16,320 crores, involving government support of Rs.12,319.50 crore is proposed last mile connectivity and electricity connections to all remaining un-electrified households in the country by March 2019. In order to complete Phase-I and II of prime ministers's Gram Sadak Yojna (PMGSY), the Centre along with States proposes to spend Rs. 88,185 crores over 3 years starting 2017-18. This will result in construction of 1,09,302 km of rural roads covering 36,434 habitations. In addition, roads worth Rs 11,725 crores, involving 5411 km of upgradation of existing roads and construction of new roads in 44 districts affected by left wing extremism will be completed by 2019-20.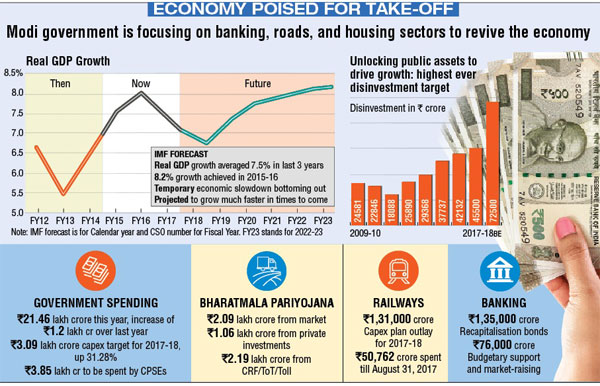 Under PM Awas Yojana (PMAY) – Urban & Gramin, 1.2 crore units will be built with an outlay of 1,85,069 crores over next three years. Under PMAY (Gramin), 1.02 crore units will be built (51 lakhs units this year) with an outlay of Rs. 126,795 crores by Centre and States by March 2019. In order to further optimise the efficiency of movement of goods and people across the country, the Cabinet also announced launching a new umbrella program involving construction of 83,677 km of roads at the cost of Rs.6.92 lakhs crores over next five years. Out of this, Bharatmala Pariyojana will be implemented with an outlay of Rs.5,35,000 crores The categories of roads (34,800 km) proposed under BMP include Economic Corridors (9000 km), Inter Corridor and Feeder Route (6000 km), National Corridors Efficiency Improvement (5000 km), Border Roads and International Connectivity (2000 km), Coastal Roads and Port Connectivity (2000 km), Green field Expressways (800 km) , Balance NHDP works (10,000 km). Also for the first time monetisation of 82 operating highways under a low risk Toll – Operate- Maintain-Transfer (ToT) Model has been initiated with a private investment potential of Rs 34,000 cr. The 1st bundle of 9 NH stretches of 680.64 Km has been put out to tender by NHAI with potential monetization value of Rs 6258 cr.
The government also claimed that the macro-economic fundamentals are strong as all government policies and programmes in the last three eyars have improved common man's life and increased self-reliance. The officials referred to the foreign reserves' built-up crossing $400 billion because of the "improved global trust" in the Indian economy. They believed that the push on infrastructure coupled with recapitalization of banks is expected to add private investments, support economic growth and create jobs.
Jaitley also said that banking reforms on lending principles to match this exercise will be also unveiled in the coming days. Focus of the new strategy is to give a big helping hand to the small and medium industries that are called MSMEs as they have the potential of the job creation to tackle the unemployment problem. The main Opposition Congress, however, dismissed the measures calling them a visionless 'damp squib'. "Let the Government face a reality check and share a targeted framework of bank recapitalization rather than hyperbole and high sounding syllables. Time has come to travel from empty Jumlas to meaningful governance," said Congress spokesperson Randeep Singh Surjewala.